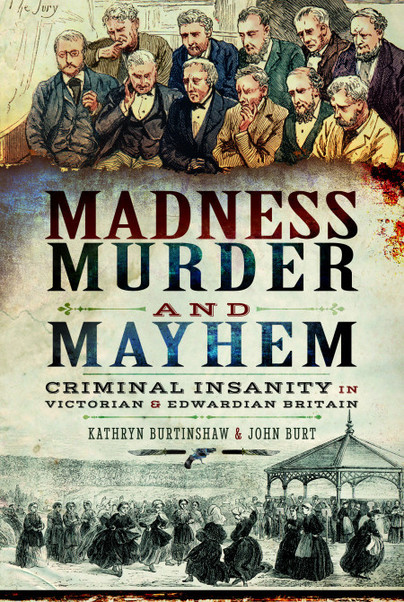 Title: Madness, Murder and Mayhem: Criminal Insanity in Victorian and Edwardian Britain
Authors: Kathryn Burtinshaw and John Burt
Publisher: Pen & Sword History
Publication Date: 2nd October 2018
Copy received from publisher for review purposes.
Description:

Following an assassination attempt on George III in 1800, new legislation significantly altered the way the criminally insane were treated by the judicial system in Britain. This book explores these changes and explains the rationale for purpose-built criminal lunatic asylums in the Victorian era.

Specific case studies are used to illustrate and describe some of the earliest patients at Broadmoor Hospital – the Criminal Lunatic Asylum for England and Wales and the Criminal Lunatic Department at Perth Prison in Scotland. Chapters examine the mental and social problems that led to crime alongside individuals considered to be weak-minded, imbeciles or idiots. Family murders are explored as well as individuals who killed for gain. An examination of psychiatric evidence is provided to illustrate how often an insanity defence was used in court and the outcome if the judge and jury did not believe these claims. Two cases are discussed where medical experts gave evidence that individuals were mentally irresponsible for their crimes but they were led to the gallows.

Written by genealogists and historians, this book examines and identifies individuals who committed heinous crimes and researches the impact crime had on themselves, their families and their victims.
My Thoughts:

A fantastically intriguing and insightful read, the pages of this book are filled with information that has been thoroughly researched and collated by two experienced and respected historians and genealogists.
I think it would be fair to say that this book was a great starting point for me wanting to know more about asylums and health care in the 1800s in Britain, especially after reading chapters about the creation of specific facilities for the treatment of those deemed criminally insane. The case histories used in each section of the book make for fascinating reading, and it's interesting seeing how society and medical professionals saw and understood those who had mental illness or committed crimes because of mental illness.
The sections on mentally weak habitual criminals and idiots and imbeciles really opened my eyes and had me asking so many questions after reading the case histories. The ideas at the time were often that poor parenting and poverty were the cause of some mentally weak people. A former governor and medical officer of Holloway Prison commented 'some criminals are of bad or degenerate stock' and 'different to skilled criminals who would not have recruited associates of low intelligence', and I do think that this is a very powerful way to see people. The arguments that took place at the time of how to define individuals makes for interesting reading, and it was often felt that it would be in infringement to lock people up because of what was deemed to be a low intellect. Which was in contrast to those who were of the belief that segregation and strict birth control would contain those with learning disabilities. Alarming really when you consider the views of the Eugenics Education Society at the time.
The theme of poverty is covered along with infirmity and illegitimacy, which involved societal issues such as employment, sickness and disability. These were contributors to the break down of families and often lead to families being admitted to workhouses. However, fear of workhouses was catalyst enough for many, these 'prisons for the poor' were to be avoided and so many would descend into a spiral of poor mental health trying to keep themselves away from the workhouse and keep their families clothed, homed and fed.
An absolutely fascinating read and one I would highly recommend!